Income Tax Department launches Toll-free line for complaints related to black money in elections
I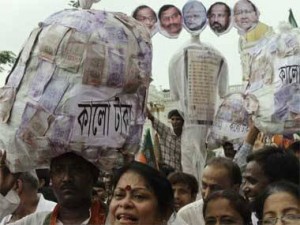 n the run up to the upcoming Assembly polls in Delhi, the Income Tax Department has launched a Toll-free number – 1800 110 132 – for its smooth and fair functioning. The general public now has an option to lodge complaints if they come to know about any movement or transaction of huge amounts of cash.
Candid Confessions
According to a party candidate from a leading national party they spend more than the maximum amount prescribed by the EC, each day. He says that no one can contest elections strictly under the EC-prescribed budget. If you don't have the support of the black money you are not in the race, he says.
A local candidate from another leading national party claims that each candidate has upto Rs 100 crore budget. Most of the amount is spent on alluring the voters by giving them from anywhere between Rs 100 – Rs 1000. He claims that his party also spends money on paid news as media plays a big role in influencing the public mindset.
It is no more a secret that big corporate houses pay huge amounts of funds to leading parties and in return get business favors from the party in power. Civic activists have demanded a probe by the Election Commission into such activities.
ADR Memorandum to SIT
The Association for Democratic Reforms (ADR) has submitted a memorandum to the Special Investigation Team (SIT) calling for a cap on the election expenditure of political parties. It also suggests that political parties are brought under the Right to Information Act thus making them bound to disclose the sources of funds.
"The availability of disproportionately large resources of unaccounted money with the political parties during elections might lend itself to misuse by the parties which belies the ideal of free and fair elections in a democratic setup like India. Thus a ceiling should be imposed on election expenditure of political parties," it said.
Round the Clock Monitoring
The toll-free number will be monitored round the clock under the supervision of a senior Joint Director (I-T) rank officer. A control room and a complaint monitoring cell have been set up by the investigation wing under the instructions of the Election Commission (EC). The EC has created an Election Expenditure Monitoring cell which will monitor illegal money and other such activities during polls.
Let us make use of this option to do our part in making elections free and fair. Readers who notice any such illegal poll related activities can enter such details in the comments section below.