One Personal Company Under Companies Act, 2013 – A Concise View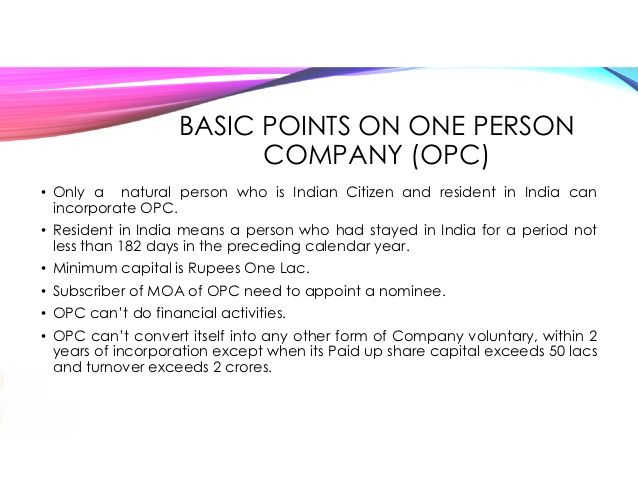 Lots of benefits are associated with the One Person Company under Companies Act that came into existence since 2013.
Before going into the details of the pros, it is essential to know about the Act. This is a revolutionary concept that ensures that One Director and One Shareholder concept is possible.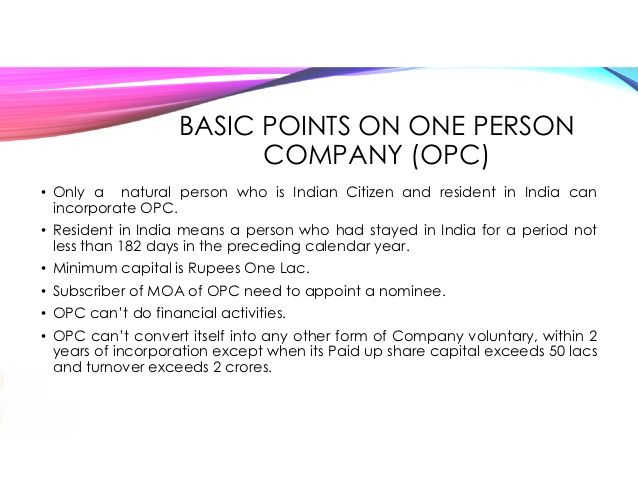 Pros of One Person Company Act 2013:
Some of the benefits are-
When you have a sole proprietorship, you can enjoy all the advantages as a single There is no need to share the profit with someone else, and only you can benefit from the gain in earnings.
The compliance involved is minimal and same is the case with the documentation or paperwork. If you are someone, who hate much paperwork, then this Act is much beneficial for you.
Another significant advantage is that the liability involved is limited, and sole proprietorship of the corporate form is possible.
The business can be transformed to another. But, you need to ensure that you run the same business for 2 years before converting it to something else. An exception is that when the capital or turnover limit exceeds your assumption.
There are lot of financial risks in running a business. Registering oneself as One person company rather than being sole proprietor, minimizes the risk as an entrepreneur. So, your personal assets are not exposed to any threat of being attached and your liability gets limited to the capital subscribed. For the people, who are enthusiastic entrepreneurs, the risks are small, and they need not be bothered by any litigations and limitations. No risk is involved with the personal assets, meaning one should not worry about losing the assets other than the capital subscribed besides the personal guarantee if any offered for any loan or liability.
Documentation Process
The time is taken for processing the documents for the One Person Company under Companies Act 2013, and it is 15 days, and this can vary depending on the processing of the documents. The documents required to register for One Person Company are also lesser. Your proof for KYC says Passport, PAN Card. For the office address proposed, utility bills should be produced. The office should be registered, which is an additional word of caution. If the premises you hold for the office is rented, then an NOC from the landlord is required.
As stated earlier, for registering under One Person Company minimum person required is 1, and one should provide details of DIN, DSC, and nominee for the individual who is proposed owner. Also, a consent form from the nominee is required.
Limitations
A minor cannot become the nominee of the owner of the company
50 lacs Cap is needed on paid-up share capital.
Conclusion
One Person Company is a boon for the small businessman as they are given many exemptions under Companies Act 2013.